BRANDT KD 67 C Edge Banding Machine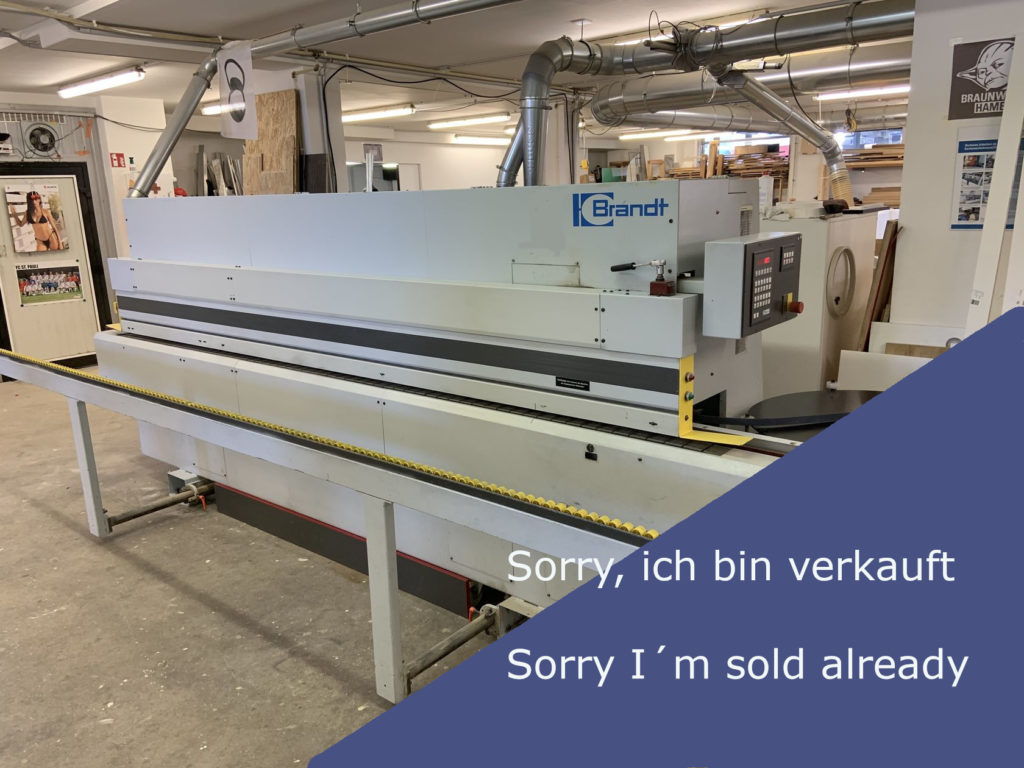 Eine Maschine, zwar ohne Fügen, aber immer noch eine gute Verleimqualität. Diese Maschine wird in Zukunft Kanten in Ägypten verleimen. Der Kunde konnte die Maschine bei uns in Funktion besichtigen und kaufte gleich noch eine Bandsäge und einen Dickenhobel dazu.
Viel Freude an den Maschinen
Our newsletter keeps you informed. Please subscribe here:
Gluing on rolls and strips up to 8 mm
End Trimming
Flush/radius milling
copy unit
profile scraper
Buffing
One-sided edge banding machine in a right-hand version
suitable for craftsmen for hot-melt adhesive gluing.
Technical specifications:
Edge thickness 0.4 - 8 mm
Roll separation max. 3 x 45 mm
Workpiece thickness 8 - 40 mm
Workpiece width min. 65 mm
Workpiece length min. 160 mm
Feed max. approx. 11 m/min.
Electrical 400V, 3ph, 50Hz
Pneumatic connection at least 6 bar
Connection value approx. 7 kW
Total length 5,240mm
Quick-change gluing part for hot-melt adhesive.
Glue supply leak-proof below the glue roller,
thus no soiling of the machine.
Finely dosed glue application to the workpiece
using a glue roller, no adjustment to the
workpiece thickness required.
Direction of rotation of the glue roller either synchronous or counter-rotating. Glue temperature monitoring using an electronic thermostat.
Automatic glue temperature reduction when work is interrupted.
Infrared hot melt activation.
Automatic edge magazine for rolls and fixed lengths, including roll plate diam. 800mm.
Equipped with reinforced pre-cut shears for thick/PVC/ABS max. 3 x 45 mm.
Standard equipment with edge and workpiece distance monitoring using an optical display.
Heavy pressure zone with driven, pneumatically operated main pressure roller and 2 free-running pressure rollers.
Standard equipment with manual central lubrication for the transport chain.
Centrally adjustable upper pressure.
Integrated route control for non-contact control of processing functions.
Adjustable via keyboard and LED display.
Electrical equipment with modular control
system for increased operator comfort.
Standard unit configuration trimming unit
Chamfer/straight for trimming the front and rear edge
overhang with a pulling trim cut for high accuracy.
Edge dimension: max. 8 x 45 mm
2 motors each 0.27 kW, 200 Hz, 12,000 rpm
Swivel range straight to chamfer trimming 0 - 15 degrees
equipped with 2 chop saws diam. 100 x 32 x 2.6mm.
Flush trimming unit above and below with
vertical and horizontal scanning.
Pivoting range 0 – 15 degrees
2 motors each 0.40 kW, 200 Hz, 12,000 rpm
Equipped with 2 WPL combi milling cutters straight/radius
Diameter 56/50 x 16 x 16 mm, Z = 4, r = 3 mm.
Form milling unit above and below, for milling head edges on post and softforming parts and rounding the corners of thick PVC edges.
Wooden edges only possible to a limited extent, depending on preliminary tests.
2 motors each 0.35 kW, 200 Hz, 12,000 rpm
Edge thickness max. 3 mm (radius)
Standard equipment with 2 WPL radius milling cutters r = 3mm, diam. 73/61 x 16 x 16mm, Z=3.
scraper unit
for PVC edge scanning from above, below and
from the side, for chamfering and rounding of pre-milled PVC edges
Edge thickness max. 3 mm
Equipped with 2 WPL profile knives r = 3 mm.
Buffing unit 2 motors to get a grip on the edges at the top and bottom 2 motors each 0.09 kW, individually suspended, adjustable in height and angle