RAIMANN KS 310-BV Multi-Rip Saw with blade adjustment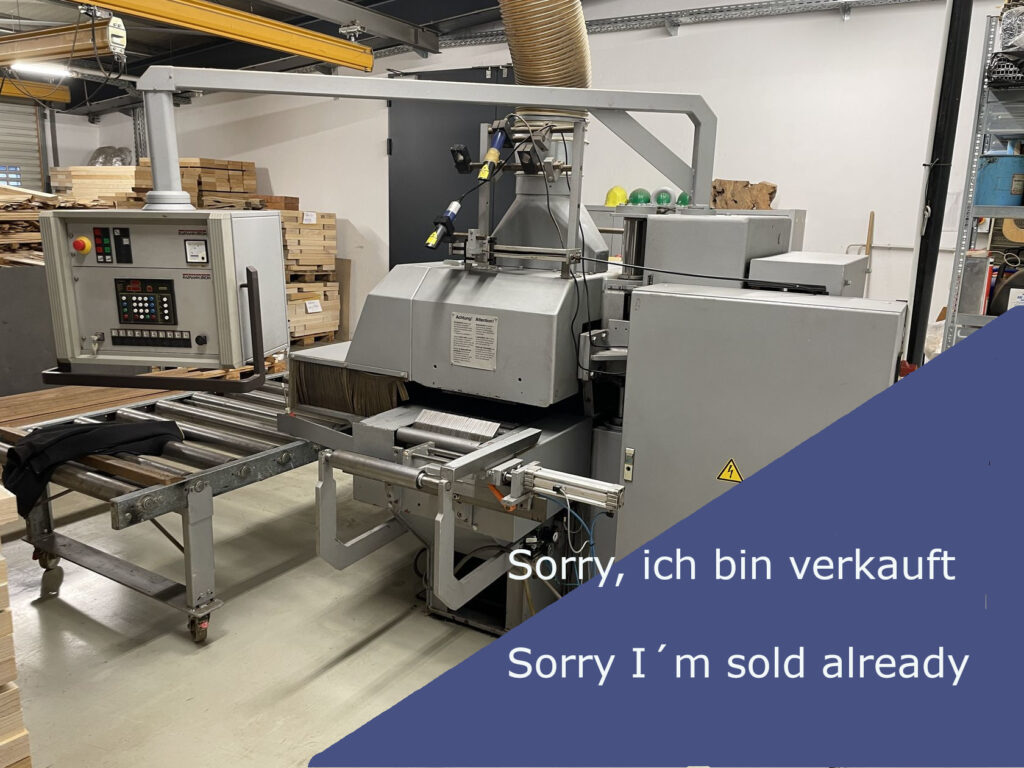 Diese schöne Mehrblattkreissäge RAIMANN wurde bei einem renomierten Instrumentenbauer nicht mehr eingesetzt und wurde von uns demontiert und an einen Massivholzverarbeiter in Schweden geliefert.
Wir wünschen viel Freude an der Maschine.
Our newsletter keeps you informed. Please subscribe here:
Multi-Rip Saw with automatic blade adjustment
saw blade.
Feed chain with spikes
Cutting width max. 310 mm
tool diameter Max. 360mm
tool diameter Minimum 250mm
Feed infinitely variable 8 - 35 m/min.
Power saw motor 55 kW
Machine equipped with the following additional options:
- 1 set of distance rings
- 1 bush for multi-blade cutting
- Widened safety hood 1,000 mm
- Reducer suction hood 250 mm
- Pneumatic adjustment of the infeed ruler 2 positions
- Driven pull-out roller below, ribbed
- Pressure roller from above, smooth
- Electronic control unit PROFICUT I
- 2 diode laser aiming light 10 mW
- Attachments for up to 4 lasers
- Swing arm control panel
Workpiece return system consisting of:
Driven cross conveyor belt SFB
Workpiece length max. 1,300 mm
Belt speed 5 m/min.
Inside of belt with wedge guide bar
Driven Roller conveyor
Width 1,000mm
Roll diameter 80 mm
Roller pitch 200 mm
Total length 4,000mm
with locking and swivel castors
Also available:
- A total of 7 pcs. Saw blades 350 x 3.6/2.4 x 80 mm