BIESSE AKRON 440 Edge Banding Machine with PU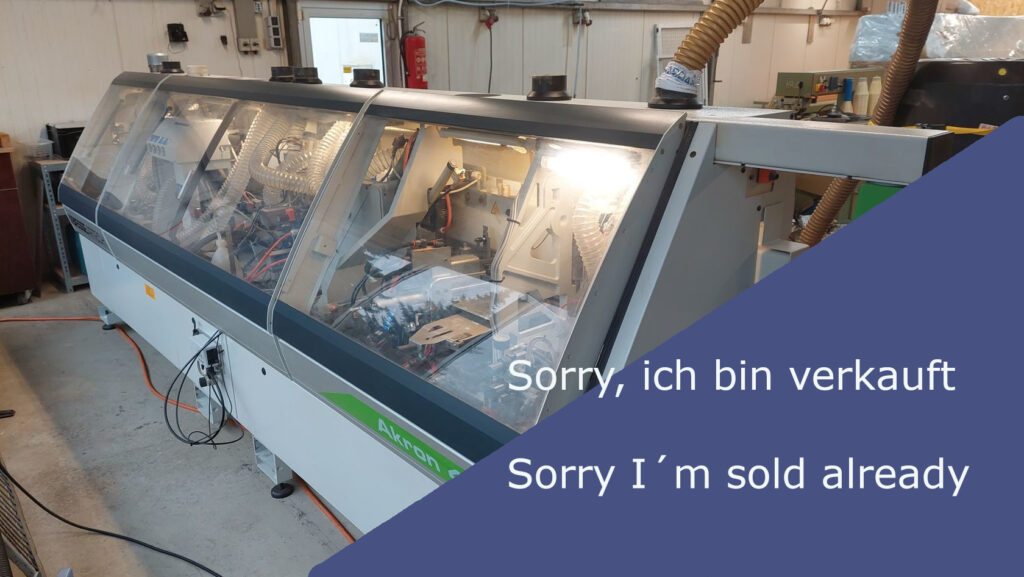 Ein belgisches Start-Up Unternehmen trat an uns auf der Suche nach einer geeigneten Kantenanleimmaschine heran. Bei uns am Lager wurden Musterteile auf der Maschine gefahren und dem Kunden zur Begutachtung zugesandt. Desweiteren halfen wir bei der Kontaktherstellung bzgl. richtiger Leimauswahl. Mittlerweile produziert die Maschine bekantete Möbelteile "am laufenden Band" zur Freude des neuen Eigentümers.
Our newsletter keeps you informed. Please subscribe here:
One-sided edge banding machine for the
gluing and post-processing of edge
material on panel-shaped workpieces using
synthetic resin hot-melt adhesives and
polyurethane adhesives.
With 2 glue containers for EVA glue and 1 glue container for PU
Granules. There is also a nitrogen storage box for the PU glue pot.
Control System:
TS 10 NC control with 10 inch touch panel
WINDOWS CE operating system
Technical specifications:
Workpiece thickness 10 - 60 mm
Workpiece thickness with MFU unit
Workpiece thickness: from 10 to 60 mm
Workpiece thickness with MFU unit: from 10 to 35/60 mm (profile dependent)
Edge height: from 14 to 64 mm
Edge thickness rolled goods: from 0.4 to 3 mm
Edge thickness strip material (*): from 0.4 to 10 (12) mm
Workpiece projection: 25 mm
Minimum board length: 140 mm
Minimum width (at 140mm length): 85 mm
Minimum width (at 250mm length): 50 mm
Feed speed: 18 m/min, 12 m/min. when copying corners
MACHINE EQUIPMENT:
Axis-controlled infeed fence
ANTI-STICK-SOLVENT APPLICATION
JOINING MILLING UNIT AT THE INLET FI-502
Motors a 3.5 KW
• Possibility to work with or without keying,
• Air nozzles to clean the narrow surface
before applying the glue,
• The AUTO-SET device: ensures optimal
positioning of the cutters, depending on the
thickness of the piece to be machined.
Vertical movement of the two motors on linear guide elements
GLUEING UNIT VC-511
Glue application system: Glue application
using a knurled steel roller with keyed bearing and continuous glue
circulation from the glue pot underneath.
Quick coupling for swinging away the unit.
Separate temperature control for glue roller and glue pot
with digital display and automatic standby temperature.
Pressure rollers with insertion-controlled
pressure rollers RPT, pressure device consisting of:
First pressure roller Ø100mm with ist own compressed air regulator.
Two free-running pressure rollers Ø60mm conical at the top and bottom.
With option KIT PRO-GLUE
The PRO-GLU kit consists of the following components:
• System TEKNO-GLUE for optimal gluing through:
- Controlled touch of the glue roller
- Automatic giving away at feed stop
- automatic ON/OFF of the gluing part
• REVERSE system to close the glue roller in the same or opposite direction

Dual gluing system using EVA glue and
POLYURETHANE glue in granular form.
This version makes the machine
ALTERNATIVELY suitable for POLYURETHANE and EVA glue.
For this purpose, the machine is equipped
with two systems for heating and thermoregulation of the glue tanks,
as well as two glue tanks specific to each
type of glue (the machine CANNOT receive
and operate the two gluing units at the same time).
CUTTING UNIT IN-801
Two-motor trimming unit, each with a 0.8 kW at 12000 rpm.
For trimming the front and rear edge overhang with an inclination of 0° to 15°.
- Pneumatic changeover with preselection of
the cutting angle between 0 and 15 degrees by PLC.
- Aggregate exclusion (exchange) from the
processing as well as an independently possible pivoting of the two trimming motors.
- suction system.
- System FLEX with controlled overhang.
Allows adjustment of the saw blade trimming
position via the control panel to obtain a specific overhang of the edge.
FLUSH CUTTING UNIT BOTTOM and TOP RS-502
Used for upper and lower trimming of the glued
edge, with two 0.65 kW high frequency motors
at 12000 rpm, complete with self-cleaning vertical rotary
buttons and suction hoods. Can also be used for pre-
milling on all edge types and does not require any adjustment when
changing edge thickness.
DUO-SYSTEM: pneumatic control via NC which enables 2 different milling settings for flush milling. Also includes pneumatic emergence.
2 MOTOR MULTIFUNCTIONAL FORMING UNIT CR-200V
For corner rounding and milling of workpiece
edges made of synthetic material up to a maximum
thickness of 3 mm. Complete with 2 high-frequency
motors at 12000 rpm of 0.65 kW each.
Corner rounding is possible for both straight
workpieces and post and softforming parts from 90 to 180 degrees.
With SYSTEM FAST 4: Electro-pneumatic adjustment of the side touch on 4 fixed points. 1 for radius milling of thick edges and 3 for chamfer milling of thin edges.
PROFILE SCRAPING UNIT RBK
For reworking thick edges made of PVC/ABS.
With air nozzles on the feeler rollers as standard.
Manual removal of the unit from the processing line.
FLAT SCRAPER RCC-701
Scraper to remove leaked glue along the glue joint.
BUFFER UNIT SP-501
Pivoting unit with automatic adjustment to the
Workpiece height, for cleaning and buffing the workpiece edge.
With fabric polishing discs. Two 0.37 kW motors. 2800 rpm.